Pedal Pusher (2014)
Five years since its first performance, Pedal Pusher has been reworked and re-imagined in response to the explosive admission by Lance Armstrong about his use of performance enhancing drugs throughout his career.
This gripping and visceral production lays bare the personal histories of the Tour's most fêted personalities, detailing their battles both on and off the bike, and exposing the allegations of drug abuse that blighted the Tours.
Combining docu-drama and physical performance, Pedal Pusher spans five years that changed the sporting world forever. Uncovering the breathtaking journey of four individuals pushing themselves to be beyond-human in the name of sport, it charts the true story of Lance Armstrong, Marco Pantani and Jan Ullrich's battle to become champion of the Tour de France.


Brown Paper Tickets Ticket Widget Loading…

Click Here to visit the Brown Paper Tickets event page.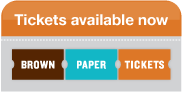 "In Pedal Pusher what Theatre Delicatessen managed to do with a couple of plastic chairs and some cycling shorts was pretty spectacular." Critics' Choice of the Year 2009 – Time Out
"This very, very physical theatre show does justice to the toughest sporting event in the world, the Tour de France, with a muscular production that's quite exhausting, in a good way, to watch… nothing short of ingenious." * * * * The List, Edinburgh – Top 20 Unmissable Shows
Pedal Pusher | Creative Team
directed, scripted and conceived by Roland Smith
produced for Theatre Delicatessen by Jessica Brewster
Movement direction by Alexander Guiney
Original movement by Tonny A
Original design by Sophie Mosberger
Cast includes: Gergo Danka, Tom Daplyn, Gareth Kennerley, Christopher Tester

Pedal Pusher | Gallery
Pedal Pusher | Past Reviews
"A gripping production"
Radio 5 Live